FAMILY OWNED SINCE 1942
The Silloway Family has been sugaring since 1942 in Randolph Center, Vermont. Tradition pairs with the latest advancements in technology to produce the finest maple syrup and products from the healthiest trees. Our sap is boiled over a traditional wood-fired arch.
Visitors Welcome at Silloway Maple
Watch the boiling, tours, shopping for maple syrup, cream, sugar and candy.
You're welcome to hike the sugarwoods, you'll see the amazing miles of interconnected saplines and the majestic maples. Give a call, 802-272-6249, and we'll meet you at the sugarhouse!
Store Hours:
Monday – Saturday, 10 – 5
Closed Sunday
Join Eva Sollbuger ~ Stuck in Vermont ~ from WCAX and Seven Days as she takes a trek to the Silloway Sugarhouse!
Silloway Maple Newsletter Signup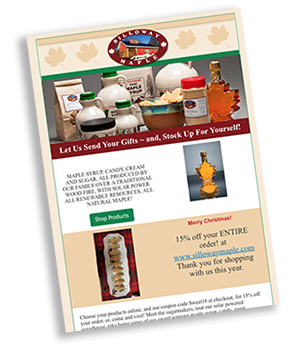 Get our latest news and offers by signing up for our e-newsletter.