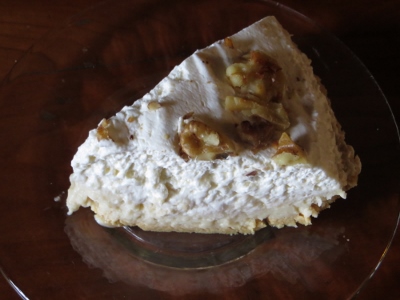 9″ pie crust
1/4 cup corn starch
1/4 tsp. salt
3 3/4 cup milk, divided
3/4 cup and 1 tbsp. maple syrup, divided
2 egg yolks
2 tbsp. butter
2 cups whipping cream
toasted walnuts
Bake a 9″ pie crust for 10 minutes at 450°. For filling, combine 1/4 c. cornstarch and 1/4 t. salt in a saucepan. Stir in 1/2 c. milk, stirring until smooth, and then add 11/4 c. additional milk and 3/4 c.maple syrup. Cook and stir over medium heat until thick and bubbly. Stir a small amount of filling into 2 beaten egg yolks, then stir into filling mixture, stirring constantly, and boil for 2 minutes. Remove from heat and stir in 2 T. butter. Cool to room temperature. 
In a chilled bowl, beat 1 c. whipping cream until stiff peaks form. Add 1 c. of whipped cream to filling mixture, fold in. Spoon into crust. Fold 1 T. maple syrup into remaining cream, and spread on pie. Sprinkle with chopped, toasted walnuts. Refrigerate until ready to serve. Note: This pie may also be made using a graham cracker crust.