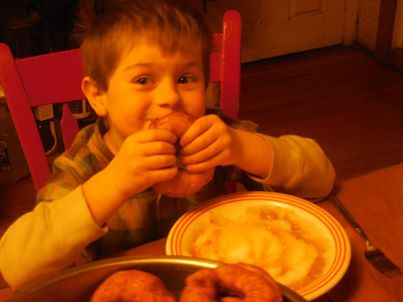 ¾ c. plus 2 T. milk
1 pkg. yeast
¼ c. shortening, softened
¼ c. sugar
1 egg
1 t. salt
3 1/2 c. flour
Scald milk, cool to lukewarm. Add yeast and stir to dissolve. Add remaining ingredients, beating to form a soft dough. Place in a greased bowl, turning once. Cover, and let rise until doubled. Punch down, and let rest 10 minutes.
Roll dough ½" thick on a lightly floured sheet. Cut into strips and form into doughnuts. Cover with a light dishtowel, and let rise until light. Pick up carefully, and place upside down in deep fat, 375 degrees. Take out onto paper towel or brown paper bag. Serve hot, with hot maple syrup. These are traditionally served at sugar on snow parties, with sour pickles.
This is Louise Silloway's recipe, which she made for family and visiting friends.